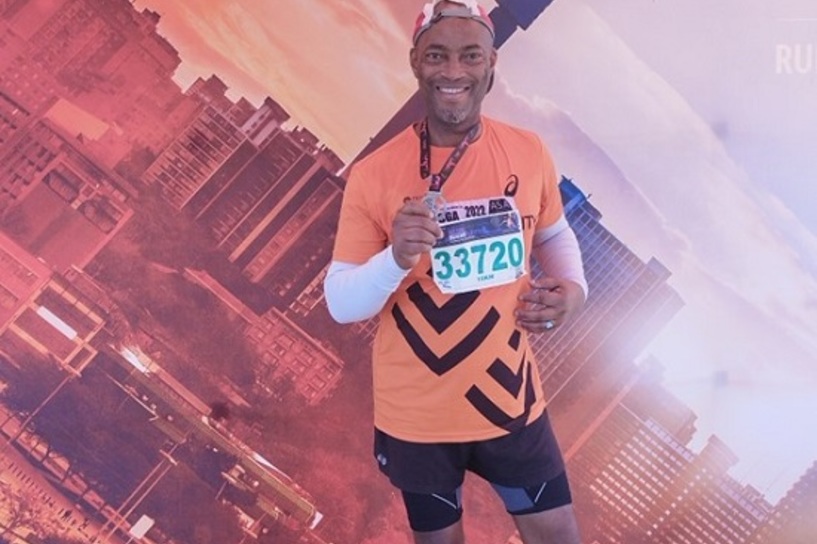 MY COMRADES STORY BY ANDRIES MAKINTA
"Comrades teaches you many things and the values that it builds in you as a runner and a human being stay with you forever. I used to follow the Comrades Marathon over the years. I also got used to watching this great race on television and supporting my friends who were running it.
My colleagues at work used to ask me to join them to the races but I was never really interested. I remember watching the late Vuyo Mbuli finishing Comrades twice and that inspired me.
One day, I told my colleagues that I wanted to run the Comrades, not knowing I first had to qualify. Then the hard work set in. I started running in 2010 and never looked back. I ran qualifying races with my colleagues and enjoyed building myself up to this epic challenge.
In 2012 I accompanied my running team from work to the Comrades Marathon which was a Down Run starting in Pietermaritzburg. I was a spectator that year so my friend and I woke up our running mates and walked them to the bus.
We had partied overnight as we were not running. I remember taking pictures of them as they boarded the bus and I kept saying, "Next year I will be with you on the start line".
I registered for my first Comrades in 2013. As promised, I was at the start with them that morning. The reality of what I said to them hit home. I had worked so hard in preparing for the race and really felt I would make it.
The feeling of being on the Comrades start line is just so overwhelming and fulfilling. The emotions when the National Anthem and Shosholoza were sang was out of this world.
The race started and it was real. I kept pushing until late in the race and my legs were cramping. I thought to myself, "I must stay with the sub-12 bus which I did but just before Little Pollys, the bus collapsed.
I pushed forward and felt that I was on it until the timing car drove past me at 3km to go. I carried on when my legs couldn't carry me and I could hear the excitement in the stadium with the crowd counting down to the final cut-off.
I continued into the stadium to finish at 12:09, heartbroken that I had missed my finishers medal but happy that I made it to the stadium on my maiden Comrade Marathon.
I did not achieve an official finish but was still excited as the crowd cheered me up even though I was out of time. That's how amazing Comrades supporters are, whether you are along the route or at the stadium. I was inspired by the late Vuyo Mbuli to muster up the courage to do this race. I felt better for having tried.
In 2014 I registered and went on to finish my Comrades in 11:45. Comrades is the greatest race in the world. It taught me to never give up. Nothing is impossible."
The winner of this month's Mr Price Sport voucher is Andries Makinta