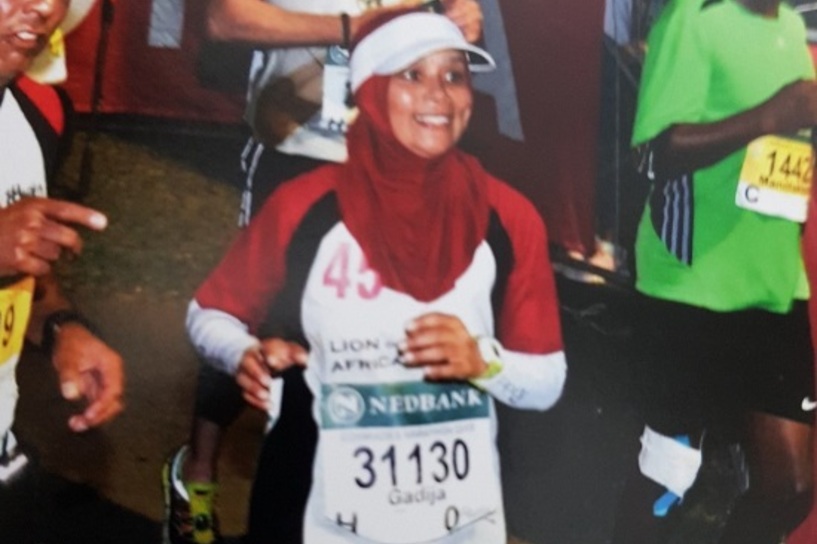 MY COMRADES STORY BY GADIJA DAVIDS
"I started running late in life and to me Comrades was just a dream. As a child, I used to watch it with my mom every single year on television and never ever thought I would one day complete this Ultimate Human Race.
It truly seemed so impossible back then. My dream came true in 2015 but also by surprise. My husband was training for his first Comrades and I used to accompany him on his runs.
I remember entering for a 36km and he was doing a marathon. He then persuaded me to do the marathon with him. I did not think I was completely ready as the furthest I had run before that was 30km. However, that very morning of the race, I decided to join him.
We managed sub-5hr. I also accompanied him to the Comrades road shows, hosted by the CMA and the Comrades Coach and this really inspired me to give Comrades a go.
I managed to get a substitute entry and dedicated my run to my mom who had passed on from cancer. That was also the reason I had decided to run for charity.
It helped me to focus and keep me going especially when the going got tough. It was really an awesome experience. The following year was like deja vu. I picked up a meniscal tear so could not do my Back-to-Back; or so I thought.
I started running in March that year after my recovery which was a bit late to start training for Comrades but my group leader persuaded me to go get my Back-to-Back medal.
He managed to get me a substitute entry and the rest as they say is history. It was really tough that year and I had to really dig deep to finish but nothing worthy comes easy; and it makes one so humble and appreciative of everything.
I was unable to do another Comrades due to the fast and also Covid; but hopefully I can return and do another... Never stop dreaming!"
The winner of this month's Mr Price Sport voucher is Gadija Davids.