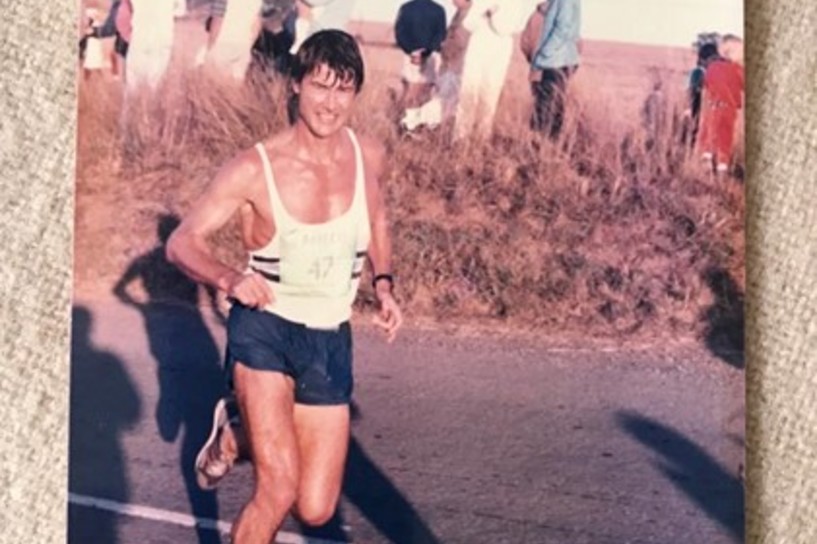 MY COMRADES STORY BY TIM BLANKLEY
"I first became aware that I had endurance ability when I was about 9 and probably inspired by hearing of the Comrades, four of my friends created a race of "4 times round the block" in Durban North.
I think I was the only finisher. Probably a year later we were driving through Pinetown and came across a back-marker in the race. My father wound down the window and said, "Do you want a lift?". I remember feeling incensed then but was lost for a reply when the guy answered, "No thanks, I'm in a hurry."
My next encounter with Comrades was when I was at Michaelhouse in 1956 and was taught art by Harold Strachan who wore his striped Comrades blazer when he taught us. Later on I found out he had come 6th in 1954. He was also imprisoned for political activity and wrote as a freelancer for the Natal Witness until shortly before his death on 7th Feb 2020.
In 1959 the Natal Witness had an article on the Comrades and said that Trig Wang would be happy to help prospective entrants with a training schedule. I received a reply saying that I couldn't enter until I was 18. I then wrote asking how they could have a Youngest Finisher prize and an age restriction.
I received a formal letter from Herman Delvin setting out the rules. While at Cordwalles and College I used to slip out and run to World's View and back. This became the Capital Climb in 1976.
There were very few marathons in the 1960's and because the fields were so small most of the races also contained a sealed handicap prize where the organisers deducted their "handicap" so that your net time determined if you had won the prize. There were also several open handicaps.
In total I ran about 1000 miles in training and races before I attempted my first Comrades. I started to experience all sorts of aches and pains prior to the race but was buggered if I was going to waste my R1 entry fee.

The 31st of May 1961 was significant in that it also was the first day of The Republic of South Africa. On the day Antony Irish, who was my second for 18 Comrades, drove me to the start. I seem to remember that there was a Roll Call before the start. Then we were off.
I found myself at the top of Polly Shortts with the Craig brothers affectionately known as "The Magpies". Meanwhile at the front of the field a determined Fritz Madel was trying to demonstrate Teutonic supremacy over John Mkwanyana who was being seconded by Allan Boyce.
I remember having a comfortable first half with no problems. When I passed John, my second asked him if he wanted anything. "Sparletta," he said but Allan Boyce would not deviate from his cherry juice or whatever it was.
I needed a pitstop in Westville and Antony had to organise me a loo as there were no portaloos. At the foot of Westridge Park I ordered an ice cream and walked up the hill eating it. Teddy Craig was behind me, trying to obscure himself behind thick concrete poles.
When I reached Toll Gate a policeman on a motor bike provided me with an escort all the way to the Pavilion where the race finished. I finished in 11th place in 7:21:04 and then learned that Keith Pearce had bailed at 45th Cutting.
Shortly before bailing he had led the race by 9 minutes. Dave Panovka a city councillor owned the Pavilion Hotel which was near the finish and all participants were able to have a bath there.
We then went to the Durban Country Club for lunch. After that it was back to the Pavilion for prize giving. The Gunga Din was determined by adding finishing positions together.
At prize giving I congratulated Ian Jardine who at the age of 60 was the oldest finisher. The Daily News headlines said "98 runners earn a medal". This was a record and I didn't even finish in the top 10 percent!
As a postscript in 1962, I hitched to the Richmond to Maritzburg 25 miler carrying the Hardy Ballington Trophy to return it to Collegians for engraving. Jackie Mekler picked me up and asked me what I was holding. When I told him, he said, "My name's on that."
I said, "Yes I know." He dropped me off at Umlaas Road as he was going through to Joburg. The race was an open handicap and I was scratch man. Eventually in desperation I stopped a bakkie who was taking racing pigeons to release them in Richmond. When I got there Herman Delvin indicated I had made it by two minutes."
The winner of this month's Mr Price Sport voucher is Tim Blankley.