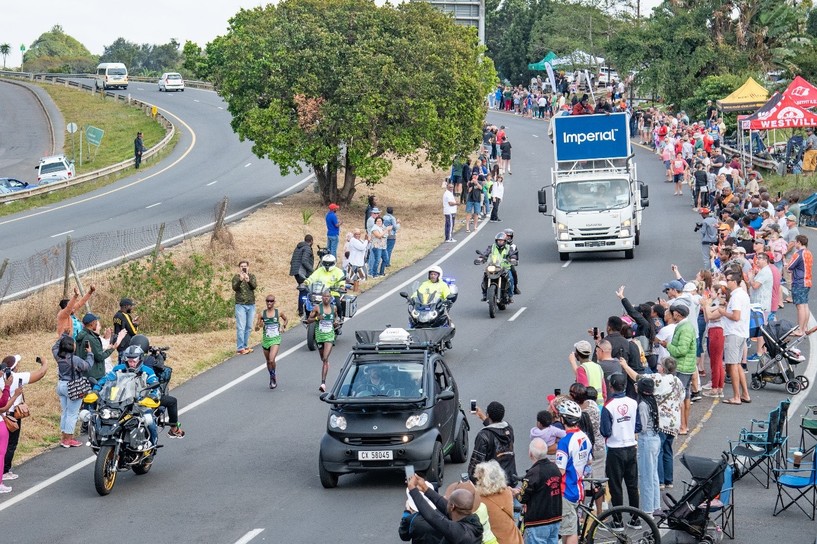 AS COMRADES FEVER BUILDS, SUPERSPORT ANNOUNCES BIG PRODUCTION PLANS
For the first time ever, viewers will have two channels to watch the Comrades Marathon on June 11.
The main SuperSport feed, taking in the entire race day from 5am to 6pm, will be broadcast on SS Variety 4. Another feed, focusing on the women's race, will be carried on SS Variety 2 from 5:15am to 11:30am to ensure that the narrative around the women's race can be told with greater clarity.
Viewers can thus choose to take in the broader picture of the Down Run, with men typically setting the pace, or focus specifically on the women where, such as in 2022, an entirely different story unspooled and held its own fascination.
The women's channel will have a dedicated female commentary team, headed by former winners Helen Lucre and Cheryl Winn.
In another first, SuperSport will also have an OTT channel streaming directly from the finish line so that viewers can keep an eye out for their friends or family completing the epic ultramarathon, often accompanied by visible signs of emotion. This will run live from 10am to 6pm.
Having been in the planning stages for four months, the 45-camera operation will be supported by a crew of almost 200 people, with another 15 working on the technical aspects from SuperSport's Randburg headquarters.
Commentary will be anchored by the versatile and experienced crew of Gerald De Kock, Cuan Walker, Mosibodi Whitehead and Bruce Fordyce, who lends a unique analytical voice to proceedings.
Additionally, presenters will be OG Molefe, Thato Moeng, Toks van der Linde, Candice Naidoo and Mbali Singidi. Shaun Pollock, the esteemed former SA cricketer, joins this year's team to hand out the roses to the top 10 men and women and engage with runners at the finish venue.
SuperSport will utilise three full-size Outside Broadcast vehicles taking in the Start, Cowie's Hill and the Finish; and six smaller units on route.
Given the scale of the 87.7km event, SuperSport will also have a camera-equipped car and five motorbikes that will shadow the race leaders and capture the dynamics of the frontrunners who always engage in sharp tactical battles.
A camera will also be positioned at Arthur's Seat, situated just after Drummond on the Comrades route and reputed to be a favourite resting spot for five-time winner Arthur Newton.
Additionally, SuperSport will again bring viewers visuals from the Green Number Club, a facility designated for runners who have completed 10 or more Comrades Marathons or earned three wins or five gold medals.
With 45 cameras in operation, including two low-light cameras to broadcast the race build-up and the conclusion that invariably takes place in fading light, producing Comrades for television rates on the epic scale: at 13 hours, it will be SuperSport's biggest single-day live production of 2023.