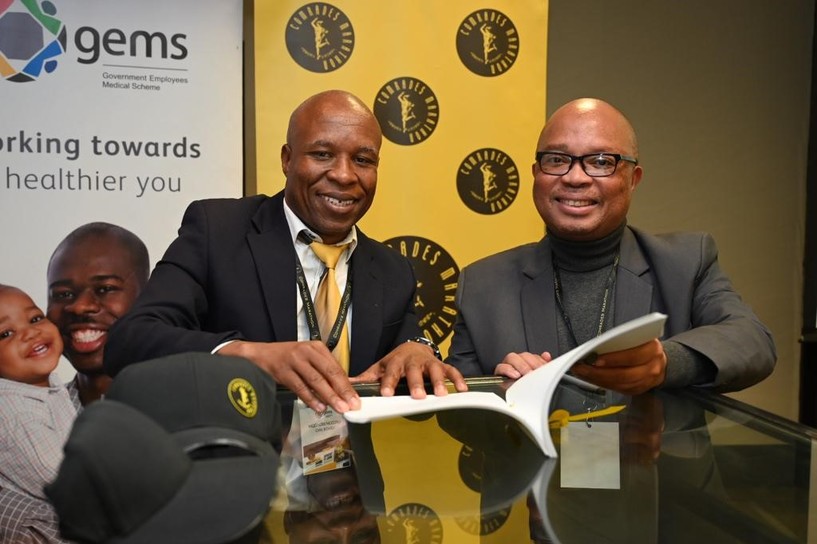 COMRADES WELCOMES GEMS AS NEW MEDICAL AID SPONSOR
With its tagline 'Working Towards a Healthier You', one of South Africa's largest medical aid providers, the Government Employees Medical Scheme (GEMS), has come on board as an official sponsor to The Ultimate Human Race. Comrades Marathon Association (CMA) Chairperson, Mqondisi Ngcobo made the announcement at a launch in Johannesburg earlier today (Thursday, 25 May 2023).
Ngcobo said, "We are proud to announce that the country's largest restricted membership medical scheme, with over 800,000 principal members and more than 2-million beneficiaries has come on board to partner with The Ultimate Human Race."
GEMS was created specifically to provide healthcare cover for public service employees, with a mandate to ensure that there is adequate provision of healthcare coverage to public service employees that is efficient, cost-effective, and equitable; and to provide further options for those who wish to purchase more extensive cover.
In addition to their contribution to race as the official medical aid partner, part of GEMS' sponsorship will cover the Comrades Underprivileged Runners Programme which accommodates and feeds up to 800 needy athletes over Comrades weekend.
The medical aid Scheme will also assume the naming rights of this year's Spirit of Comrades Awards, which awards a one-ounce pure gold medal to each of its three deserving recipients who showcase the noble attributes associated with the Comrades Marathon.
"GEMS is honoured and excited to partner with the Comrades Marathon on making this race happen. Wellness is the core of what we want to achieve for our members and all in South Africa. Our Scheme is committed to what Comrades means for so many South Africans – tenacity, perseverance and seeing it to the end. We celebrate all who have participated," says Dr Phumelela Dhlomo, Chief Marketing Officer of GEMS.
"Our participation and investment in the Comrades Marathon demonstrates our level of commitment to contributing to major events in our country. Furthermore, we believe that the ultramarathon with its huge national and international footprint and associated tourism are crucial in positioning KwaZulu-Natal and South Africa as a sporting, tourism and wellness destination," adds Dhlomo.
Seven GEMS employees will be running this year's Comrades Marathon in addition to over 600 GEMS members.
Ngcobo has welcomed GEMS as a new CMA sponsor, saying, "It is with a huge sense of excitement that we conclude this sponsorship agreement with GEMS and welcome them to the Comrades Marathon family." He adds, "We are delighted to be working with the GEMS team and look forward to the passion, positivity and value they bring to the relationship. The CMA is immensely pleased to be associated with this respected South African brand."
The 96th Comrades Marathon will be the 48th Down Run on Sunday, 11 June 2023, starting at the Pietermaritzburg City Hall at 05h30 and ending 12 hours later at the Hollywoodbets Kingsmead Stadium in Durban, covering a 87,701km distance.
#Comrades2023 #Ziyasha #ThisIsIt