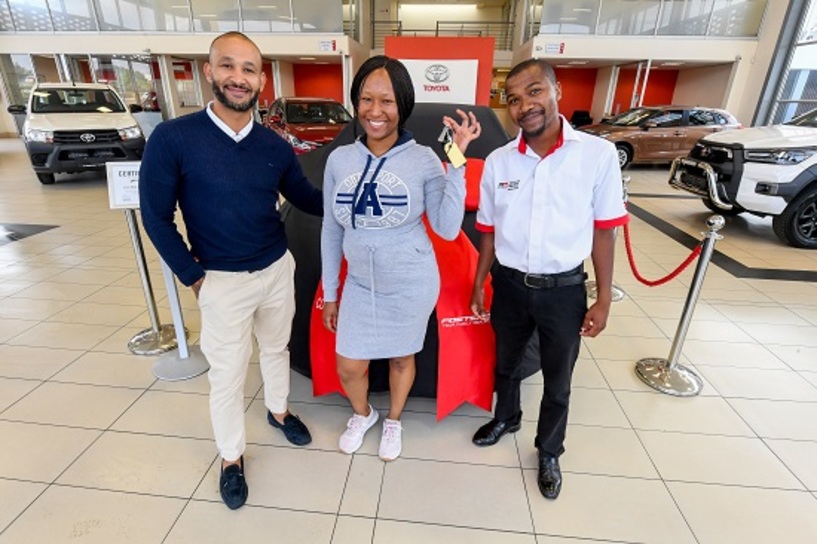 COMRADES TOYOTA WIN-A-CAR HANDOVER
"Winning this Toyota Corolla has made me very happy. My mom and siblings are just as excited and grateful. It's nice to know that out of thousands of entrants, I was the winner as I only entered three times."
33-year old Keo Molokwane of Roodepoort was presented with her brand new Toyota Corolla Quest last week after winning the Comrades Toyota Win-A-Car lucky draw competition.
Enthusiastic, sporty and a runner herself, Keo enjoys participating in 10km and 21km races. Keo says she initially couldn't believe the great news. "It is a beautiful car and many people have been so happy for me."
"The winning feeling is still sinking in, after I was declared the winner of the Comrades Toyota Win-A-Car competition; and received the keys to my prized Toyota Corolla Quest in Roodepoort."
The winner of the Comrades Toyota Win-A-Car competition was drawn on Comrades race day during the 13-hour live televised broadcast from a pool of nearly 9000 entries, purchased through charity raffle tickets, the Comrades website and Comrades App.
The initiative is aimed at fostering wider support for charitable fundraising for the CMA's six official charities; namely The Community Chest of Pietermaritzburg and Durban, Childhood Cancer Foundation (CHOC), Hillcrest AIDS Centre Trust, Hospice Association of KZN, Rise Against Hunger and WildTrust.
More than R180-thousand was raised for the Amabeadibeadi charities through this initiative, courtesy of Toyota South Africa Motors.
Keo says, "It's all thanks to the Comrades Marathon, Toyota and everyone who has been supportive. I am grateful to all of you, especially my family and friends who have been there for me."
Vice President: Marketing at Toyota South Africa Motors, Glenn Crompton says: "Our organisation is proud to be associated with both the Comrades Marathon and Amabeadibeadi Charity initiative. With Toyota's business ethos built on a culture of respect for people, it is only fitting that we partner with a charity drive that is geared towards making a difference in people's lives. We take great pleasure in congratulating Miss Molokwane on winning the Toyota Corolla Quest and wish her many years of driving pleasure."
CMA Chairperson, Mqondisi Ngcobo says, "The Toyota Win-A-Car competition is a truly significant contribution to the greater good from South Africa's largest automotive manufacturer. We are ever so grateful to Toyota for so generously backing the CMA's official charity initiative, thus enabling us to raise more funds for such worthy causes. This lucky draw competition is one of the most important drivers of the Comrades Marathon Official Charity drive and has contributed hundreds of thousands of rands to our Official Charities. For this we are deeply appreciative to Toyota'.
Ngcobo adds, 'Every runner and supporter who entered the Win-A-Car competition has contributed to our charitable endeavours. Every raffle ticket sold has helped in making the work of our six Amabeadibeadi Official Charities that much more achievable and successful. We are grateful to you.'