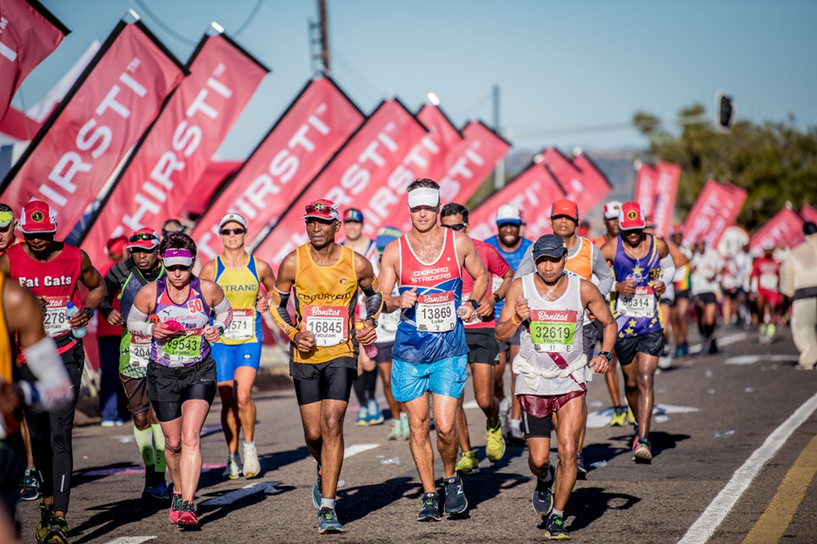 THIRSTI RENEWS WITH THE COMRADES MARATHON
THIRSTI is proud to confirm the three year renewal as the Official Hydration Partner of the world's largest and oldest ultramarathon race, the Comrades Marathon.
For the first time in the four-year partnership, THIRSTI will, over and above the endless flow of natural spring water, also supply athlete's the electrolyte-fuelled range of sports drinks, known as ISOFIT+.
Superior in composition, the scientifically formulated drink is high in electrolytes and vitamin B and is thus the ideal energy and support source required to fuel prolonged activity.
THIRSTI Managing Director Rob Hoatson elaborates on the partnership,
"Sourced from the Klein Drakensberg, our mountain spring water is exceptional in its composition. Rich in minerals it really does ensure that you fuel your body with the best. Add to that our ISOFIT+ sports drinks, and we firmly believe that come race day, we've done our best to ensure the runners remain both hydrated and re-hydrated for their ultimate human race. It is our honour to partner with this race and supply all competitors – all of whom we wish well come 28 August 2022."
Comrades Marathon Association Race Director, Rowyn James says,
"The Comrades Marathon Association proudly welcomes THIRSTI as the official hydration partner to The Ultimate Human Race. THIRSTI has made enormous strides in the bottled water market, establishing a national footprint and building a strong, reputable brand. Since 2019, they have injected a new level of excitement and passion into the planning and execution of the Comrades refreshment stations and we know that 2022 will be no different."
James adds, "It is reassuring to know that by partnering with a company that shares our values, our runners will enjoy the benefits of absolute goodness of pure spring water."
With the brands main activation point coming in at Cowie's Hill, approximately 71,3km into this year's 47th Down Run, THIRSTI's Head of Marketing Michelle Lillico says that the brand is honoured to supply the supreme athlete's goodness in every drop,
"We're a brand that admires those with a thirst for life, and are proud to show our respect, support and encouragement to the athlete's by supplying them with their most valuable race day resource requirements. In addition, we're planning an exceptional Cowie's Hill activation point that we hope will uplift and energise the athlete's to complete the 95th Comrades Marathon."
Established in 2015, the Kwa-Zulu Natal water brand will supply 240 000 litres of water and 67 000 litres of ISOFIT+ sports drink to runners on the day, distributed across 43 water points.