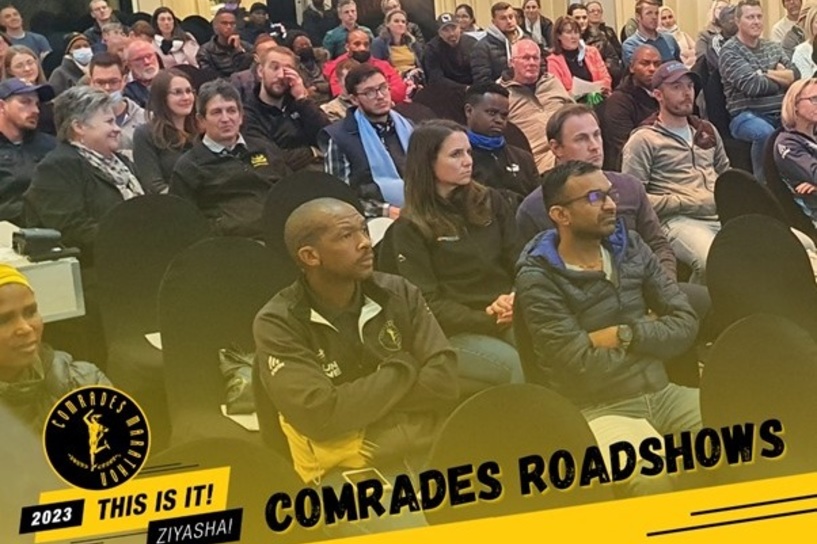 2023 COMRADES ROADSHOWS
With Comrades training season upon us, the annual Comrades roadshow will be travelling to four strategic locations in a bid to motivate and empower its 20,000 entrants to be adequately prepared for The Ultimate Human Race on Sunday, 11 June 2023.
The Comrades roadshows will be hosted by respective running clubs in Gauteng, KwaZulu-Natal and the Western Cape over the coming weeks. This week's roadshow was held in Randburg.
Comrades Coach, Lindsey Parry has urged runners to attend the upcoming sessions and be part of that select group who will receive first-hand advice on training, nutrition, injury prevention and tapering among other relevant topics.
| DAY | DATE | TIME | PROVINCE | HOST CLUB | VENUE |
| --- | --- | --- | --- | --- | --- |
| | | | | | |
| Tues | 31 Jan 2023 | 19H00 | Gauteng | RunZone Athletics Club | Randpark Golf Course, Setperk Road, Randpark, Randburg |
| | | | | | |
| Wed | 8 Feb 2023 | 19H00 | KwaZulu-Natal | Stella Athletic Club | Glenwood Preparatory School, Bath Road, Glenwood, Durban |
| | | | | | |
| Wed | 15 Feb 2023 | 19H00 | Western Cape | VOB Running Club | Constantia Sports Centre, c/o Constantia Bowling Club, Constantia Main Road, Constantia, Cape Town, 7806 |
| | | | | | |
| Wed | 22 Feb 2023 | 19H00 | Gauteng | Tuks Athletic Club | South Street, Hillcrest Sports Campus, University of Pretoria, Hatfield, Pretoria |