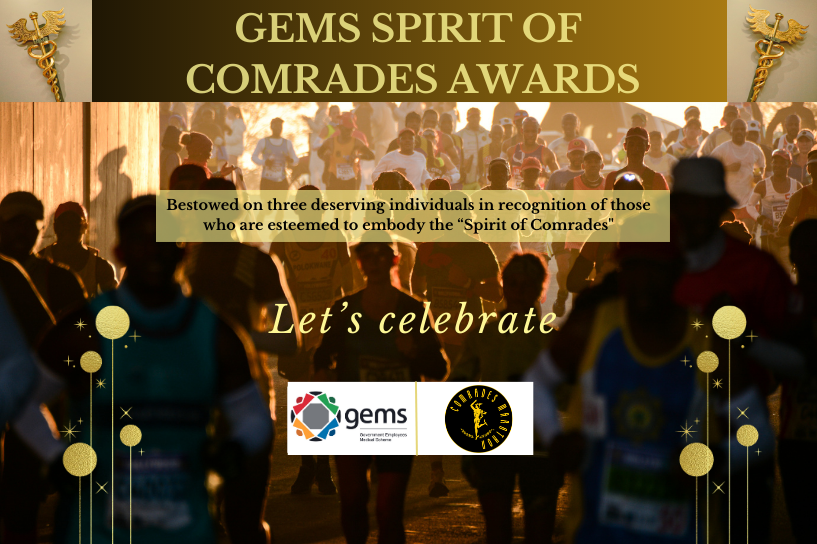 2023 GEMS SPIRIT OF COMRADES AWARDS NOMINATIONS OPEN
"Do good and good will come to you!"
In the spirit of celebrating a phenomenal Comrades race day and Proudly South African Champs in both the Men's and Women's races this past Sunday, the Comrades Marathon Association (CMA) is calling on runners, supporters and the greater public to submit their nominations for this year's Spirit of Comrades awards gala to be held in Durban in October.
The flagship awards gala dinner of The Ultimate Human Race will be hosted by the CMA and its sponsor, Government Employees Medical Scheme (GEMS).
Over 60 outstanding recipients have been honoured with the prestigious Spirit of Comrades Award as well as a 24-carat pure gold medallion over the past three decades. The prized accolade is bestowed on three deserving individuals every year in recognition of those who are esteemed to embody the "Spirit of Comrades".
The criteria is fairly wide but as a guideline, the following factors may be considered:
• The candidate will have run the Comrades Marathon, most probably on numerous occasions.
• The candidate may in some way be associated as an integral player in the history of the Comrades Marathon.
• Most importantly the candidate may have exhibited a particular act of selflessness, sacrifice, courage or perseverance in a particular race or over a period of years.
• You will be able to nominate your candidate for the Spirit of Comrades Awards by completing this nomination form.
Awards will be awarded at the discretion of the CMA Board. Should you wish to nominate an individual for this award, please complete the nomination form and send it to the CMA before 31 July 2023 or click this:2023 GEMS Nomination Form
SPIRIT OF COMRADES AWARDS ROLL OF HONOUR
1996
Denis Tabakin
Gavin Elliott
John Wright (Dr)
1997
Wally Hayward*
Liege Boulle*
1998
Sam Tshabalala*
Percy Dunn
1999
Bruce Fordyce
Don Oliver*
2000
Jackie Mekler*
Alan Robb
2001
Vreni Welch
Donovan Wright
2002
Manie Kuhn*
Tommy Malone*
Anonymous Aids Runner
2003
Pat Boyall
Anthony Farr
Johnny Demas
2004
Jetman Msuthu
Carl Peatfield
Zeb Luhabe*
2005
Frith Van Der Merwe
Lucas Nonyana
Zwelitsha Gono
2006
Paul Dolman *
Henk Meyer
Brian Goddard
2007
Richard Whitehead
Paul Selby
Val Wilkinson*
2008
Mark Bloomfield
Kenny Craig
Riel Hugo
2009
Josaya Moima
Ann Margolin
Leon Van Wyk
2010
Anne Kouvarellis
Jaco Zevenster
Vlam Pieterse
2011
Wayne Korras (Dr)
Kabelo Mabalane
Michael Wilkinson
2012
Frankie Cawdry
Mandla Zwane
Jeff Minnaar
2013
Joseph Ta
Vincent o'Neill
Brad Brown
2014
Fiona Scholtz
Debbie Schoeman
Joy & Bernard Murphy
2015
Kabelo Ntsime
Heidi Joubert
Richard Malose Monisi *
2016
Amit Sheth
Shoyab Wadee
Rupin Mehta
2017
Hideo Takano
Steven Viening
Vishal Kanjee
2018
Bob de la Motte
Danie de Wet
Bruce Hargreaves