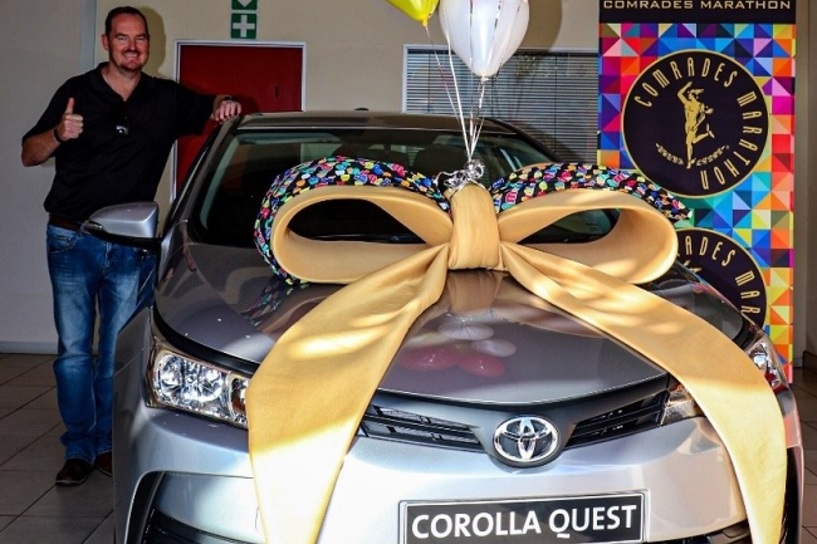 COMRADES TOYOTA WIN-A-CAR WINNER ANNOUNCED
It seems like good fortune was shining on Westville resident, Graham Clare on Comrades Day who had purchased only two tickets into the 2023 Comrades Toyota Win-a-Car competition and was duly declared the winner.
The Comrades Marathon Association (CMA) and Toyota South Africa Motors (TSAM) presented the proud father of two with his brand-new Toyota Corolla Quest at a local Toyota dealership in Durban a few days ago.
Graham, a sales consultant, says, "The last time I had ever won anything was when I was twentysomething and won a CD. I am so grateful to Toyota and the Comrades Marathon as this car could not have come at a better time."
"I live the brand and love the brand - I am a loyal Toyota driver and have been enjoying driving my Toyota Fortuner for several years now. Together with my wife Gwyneth and children, Caleb and Erin, we all love our Toyota!"
Graham has been a keen supporter of the Comrades Marathon since his younger days when he would watch the great race on television together with his family.
After moving down to Westville nine years ago, he and his family have supported the Comrades Marathon every year from the roadside. This year, he assisted the Childhood Cancer Foundation (CHOC) with setting up their gazebo along the Comrades route in Westville.
Graham had entered the Toyota Win-a-Car competition by buying two tickets on the morning of the Stella 10km and 25km road race from the ladies at the CHOC tent. With over 4300 tickets sold, more than R200-thousand was raised for the Comrades Amabeadibeadi charities via this competition.
"Giving back to charity, like the Toyota does with this Win-a-Car competition is invaluable. I'm a big supporter of this. It's always important to give back to those who have less than we do. I often get involved in charity drives myself."
"As for the Comrades Marathon, what's not to love! I love the atmosphere and the spirit of the whole event. We always get to meet such cool folks on the side of the road each year; all there to support the runners. The athletes themselves are all so brave in my eyes to even attempt this amazing feat. It's truly a test of the human spirit."
Graham tells us that many of his friends from Westville and surrounds run The Ultimate Human Race. "I'm also originally from Benoni so I support Benoni Northerns Running Club big time as I know many of them."
"To be honest, I'm in awe of the Comrades Marathon. I'm not considering running this epic ultramarathon anytime soon but never say never. I did the Ironman 70.3 in Durban the week before Comrades and that was a bucket list achievement for me."
"Again, I'd like to thank the Comrades Marathon Association, Toyota South Africa Motors, the charities and all the people involved in this competition. A huge thank you for picking me, I'm so happy I won!
 TSAM's Vice President: Marketing, Glenn Crompton says, "The association between Toyota South Africa Motors and the Comrades Marathon is invaluable, and the parallels around the concept of endurance are quite striking too. Toyota has been producing cars that have stood the test of time for years while the Comrades Marathon is considered to be the ultimate endurance race in the athletics world."
CMA Chairperson, Mqondisi Ngcobo says, 'We congratulate Mr Clare on winning the Toyota Win-a-Car competition. The CMA is proud to be associated with Toyota in so many ways. The Win-a-Car initiative is a huge contribution to the Comrades Marathon's charitable fundraising drive from South Africa's largest automotive manufacturer. We are deeply appreciative to Toyota.'
Ngcobo adds, 'The CMA is grateful to every person who entered the Win-a-Car competition. Every raffle ticket sold has helped in making the work of our Amabeadibeadi charities that much more achievable.'