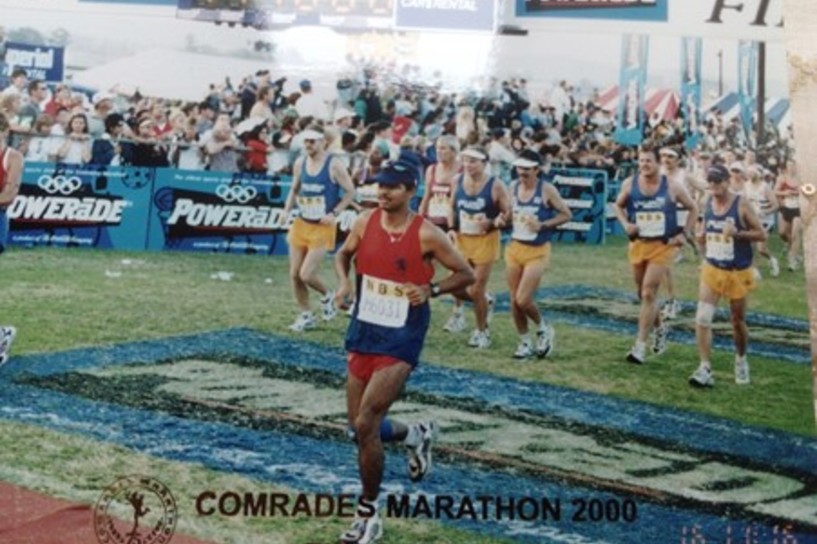 MY COMRADES STORY BY SAGREN LEONARD MOODLEY
"I have run a few Comrades Marathons after finishing school and my last one was in the year 2000. It was an epic race and I loved it. Since then, I had stopped running altogether due to knee injury.
However, every year since 2000, on Comrades day, I would get very itchy feet and also get very emotional that I was not on the Comrades route. Being a Comrades die-hard, I would watch the race from start to finish wearing my bronze medals.
And every year I would always say that I will get back on the road, with my eye on the centenary Comrades Marathon. After having itchy feet again this year, I was challenged by my wife and two sons to get back on the road. I accepted their challenge and am now focusing on running the 2023 Comrades Marathon.
I am going to do this in memory of friends and family who passed on over the past few years. I am also going to do this to inspire my sons.
I recently started my training. I walked and ran a 6km route on the beach front to kickstart my new Comrades journey. It was tough, starting again after 20 years. My mussels hurt and it almost felt like I was doing the Comrades Marathon. Even though it was only 6km, that first training run was so real and a stark reminder of everything that Comrades runners put into their runs.
I remembered all the joys, the aches and pains of my previous Comrades Marathon runs. I remembered what it felt like to just get from one hill to another, from one kilometre to the next, from one refreshment station to another; and most importantly just how much it took to even get to the start of the Comrades Marathon.
I used my first training run as a meditation and I also prayed for those whom I remembered that have passed on. Its hard to believe but I even found my old sports watch which I last used for my 2000 Comrades Marathon and all the marathons prior. And it still works. This must be a sign. This is my come back, the return of the mack.
There is nothing like the Comrades Marathon. I look forward to running it again!"
The winner of this month's Mr Price Sport voucher is Sagren Leonard Moodley.