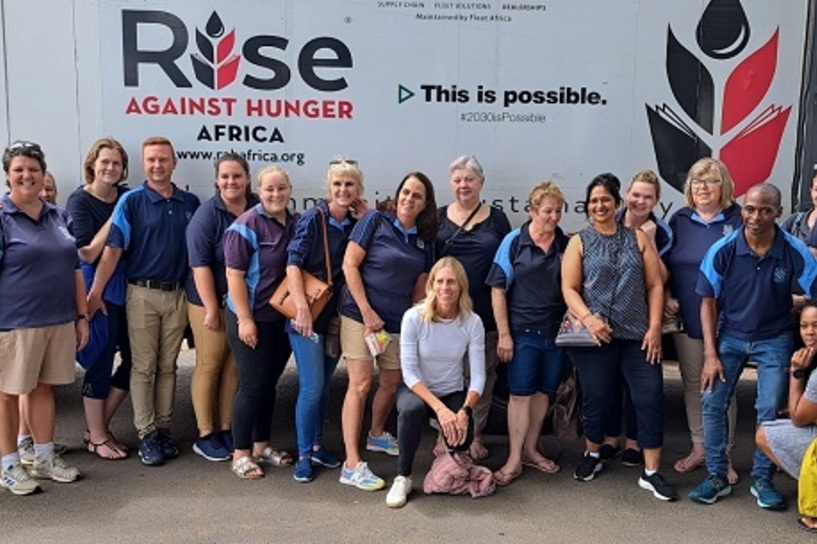 AMABEADIBEADI NEWS
30,000 MEALS PACKED FOR RISE AGAINST HUNGER
Official Comrades Charity, Rise Against Hunger hosted a meal packaging event recently.
Together with local running club, Collegians Harriers and Comrades Marathon board members, the organisation hosted a very successful session, with 30-thousand meals having been packed for disadvantaged recipients.
COMMUNITY CHEST SUPERHEROES
The Community Chest Durban and PMB & District Community Chest Comrades campaign supports 22 Early Childhood Development centres throughout KwaZulu-Natal. Investing in children under the age of five has a direct impact on their future as well as that of our country.
Mbalecane Ziphatheleni Preschool in Lamontville, south of Durban, is one of the NPO Impact Partners that benefit from the Comrades Superheroes campaign. For 20 years they have been providing early childhood development to children under the age of five as they understand that these years significantly shape who they will become. They accommodate children between the ages of four months and five and a half years.
In addition to providing vital education, the creche provides a service to the community; the early opening hours and late closing times (6.15am to 5.00pm) enable parents to drop off their little ones prior to leaving for work. Learners are safe, educated, and provided with basic meals, receive regular health checks from the clinic team, and are taken on trips to the library.
Please support our Comrades Superheroes so we can support organisations like Mbalecane Ziphatheleni Preschool and help provide nutrition, social skills, and physical and mental stimulation.
https://www.communitychest.co.za/comrades-campaign
We thank the Comrades Marathon Association for nominating us as one of their official Comrades charities and for their Race4Charity initiative which has raised hundreds of thousands for Early Childhood Development for under-resourced children in KwaZulu-Natal.