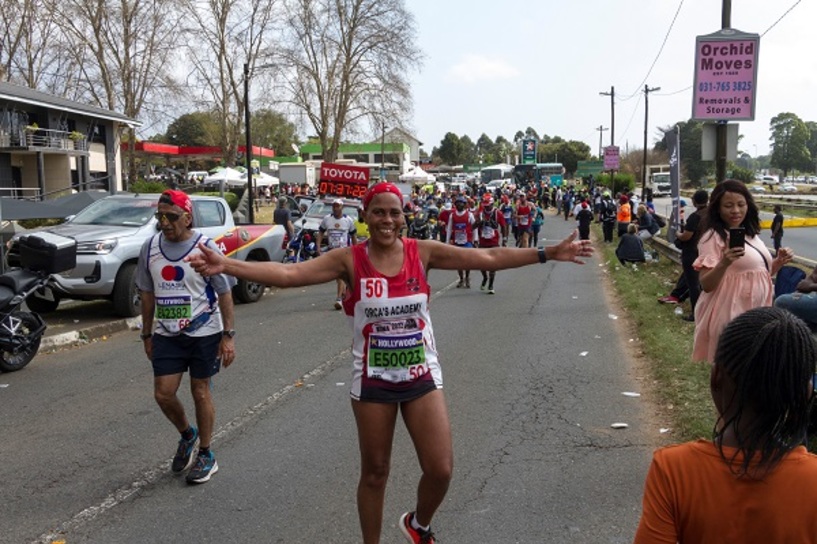 2023 COMRADES ROUTE DISTANCE REVEALED
The official route distance of this year's 96th Comrades Marathon from Pietermaritzburg to Durban will be 87.701km.
Upon completion of the official route course measurement conducted by the Comrades Marathon Association's (CMA) Route Portfolio, Department of Transports Road Traffic Inspectorate and Msunduzi Traffic, CMA Race Director, Rowyn James has confirmed that the official race distance of this year's Comrades Marathon Down Run will be nearly 2,2km shorter than last year's 89.885km Down Run.
It is worth noting that the last time that the race had finished at the HollywoodBets Kingsmead Cricket Stadium in 2016, the race distance was 89,208km; the same year in which David Gatebe set the current best Down Run time of 5:18:19.
Furthermore, when Frith van der Merwe set the still standing ladies best Down Run time of 5:54:43 in 1989, also at the Kingsmead Cricket Stadium, the distance was 89,6km. The difference in distances over the years is mainly due to the roadworks and varying routes taken on the run out of Pietermaritzburg.
James has also confirmed the cut-offs for this year's race. There are 5 cut-off points along the route:



CUT – OFF




RUNNING TIME




TIME OF DAY




Cato Ridge





(N3 Subway)




04:30:00




(10h00)




Drummond





(Halfway)




06:10:00




(11h40)




Winston Park





(Caltex Garage)




08:10:00




(13h40)




Pinetown





(St. Johns Avenue Subway)




09:20:00




(14h50)




Sherwood




11:00:00




(16h30)
James has advised runners to make their way to the start of the race early saying, "Due to the ongoing N3 roadworks, we ask that all of our athletes make their way to the Pietermaritzburg City Hall early to avoid the traffic congestion and potentially miss the start of the race."