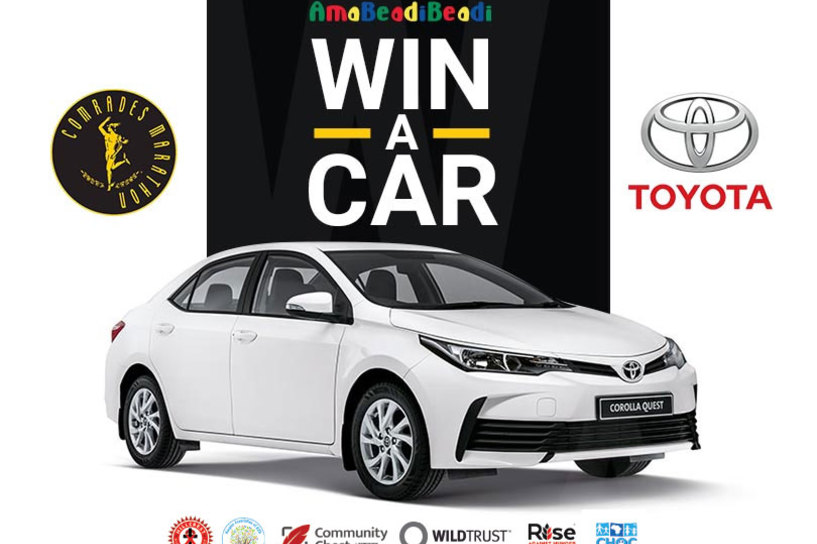 Launch of 2022 Comrades Toyota Win-A-Car Competition
The Return – Sishay'Ibuya
With 71 days to go to the 95th Comrades Marathon, the Comrades Marathon Association, in conjunction with long-standing sponsor, Toyota South Africa, launched its 2022 Comrades Toyota Win-A-Car competition.
The initiative is aimed at fostering wider support for charitable fundraising for the CMA's six official charities; namely The Community Chest of Pietermaritzburg and Durban, Childhood Cancer Foundation (CHOC), Hillcrest AIDS Centre Trust, Hospice Association KZN, Rise Against Hunger and WildTrust.
One of the main fundraising drivers of the Comrades Amabeadibeadi Charity initiative is the Toyota Win-a-Car Competition, whereby a brand new Toyota Corolla Quest will be up for grabs on Comrades Race Day, 28 August 2022.
CMA Vice Chairperson, Les Burnard said, "This is a truly significant contribution to the greater good from South Africa's largest automotive manufacturer. We are ever so grateful to Toyota for so generously backing the CMA's official charity initiative, thus enabling us to raise more funds for such worthy causes."
Runners, supporters and the greater public can purchase raffle tickets from each of the six official charities, via the Comrades Marathon website and Comrades App; as well as at the Pietermaritzburg and Durban registration points as of 17 June until 12 noon on race day, 28 August. The cost is R20 per ticket.
Another exciting part of the 2022 Amabeadibeadi Charity Drive is the continuation of the Race4Charity initiative. Via this development, runners have the opportunity to "secure" their spot closer to the front of the Comrades start line and improve their seeding batch, while raising funds for a good cause. Over the years, Comrades runners have raised millions of rands through this fundraising innovation.
Race4Charity gives individuals the opportunity to not just make a difference, but to get people involved and race collectively for the benefit of charities. Runners can go to the Comrades website www.comrades.com and follow the Race4Charity link. Runners can sign up and choose which of the six Amabeadibeadi charities they would like to support. Click HERE for more information.
Pat Freeman, who heads the CMA's Charities & CSI Committee added, "The aim of the CMA's fundraising platforms is to give back to the needy and less fortunate in a way that uplifts society and adds value to the lives of ordinary people. Our six official Amabeadibeadi charities are carefully selected to do just that and we are grateful for the hard work carried out by them on a daily basis."
VP: Marketing at Toyota South Africa, Glenn Crompton says: "Our organisation is proud to be associated with both the Comrades Marathon and Amabeadibeadi Charity initiative. With Toyota's business ethos built on a culture of respect for people, it is only fitting that we partner with a charity drive that is geared towards making a difference in people's lives."