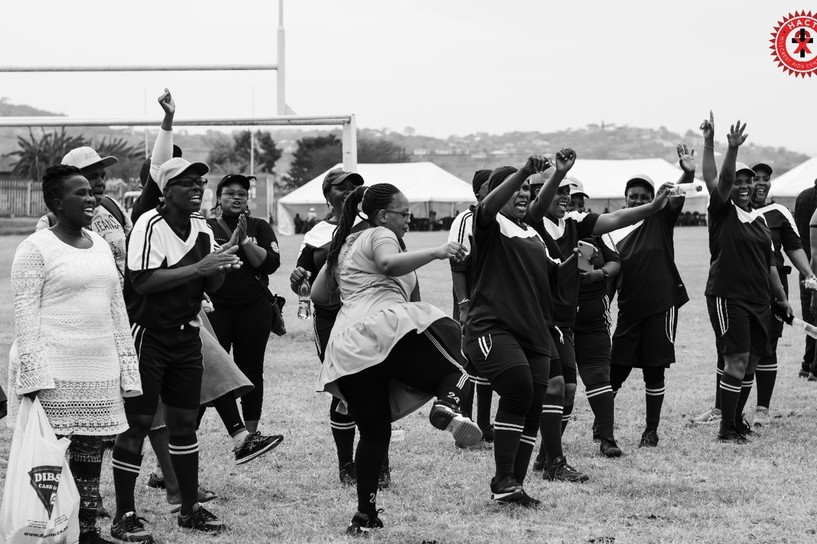 AMABEADIBEADI CHARITY NEWS
Community Chest is grateful to the Comrades Marathon Association for their dedication, love and support of our work.
This month the Community Chest would like to convey a special thank you to all its donors, Race4Charity runners and the public at large. Your support and assistance mean the world to us.
Hats off to our special band of heroes, the Community Chest Comrades Superheroes for running for our 6000 children at ECD's. We salute you!
GOGOLYMPICS CELEBRATES A DECADE OF GRANNIES' STRENGTH AND COMMUNITY SPIRIT
With a global focus on women's sport and the world abuzz with the Netball World Cup and FIFA Women's World Cup, HACT is happy to announce that its highly anticipated GOGOOLYMPICS is back and bigger than ever as it celebrates its 10th anniversary! This remarkable event, dedicated to honoring the cherished grannies (Gogos) of our communities, will take place on 25th August at the KwaXimba Sports Ground (eThekwini West). Normally an annual celebration which is hosted by Hillcrest AIDS Centre Trust (HACT), this event has not been held since 2019 because of COVID-19.
With over 1,000 Gogos from the Valley of 1000 Hills and surrounding eThekwini areas already registered, this promises to be a day that will leave lasting memories in the hearts of both gogos and spectators alike. In collaboration with the Department of Sports and Recreation and other community stakeholders, local youth in our communities have undergone special training to coach and support our Gogos in getting fit and ready to shine at the GOGOLYMPICS.
HACT's CEO, Candace Davidson-Moolman explains, "Witnessing the enthusiasm and joy with which these young coaches are preparing our gogos is a testament to the power of intergenerational bonds and community spirit. The GOGOLYMPICS is such a special event which honours the resliency, strength and beauty of our gogos.
At a time when grandmothers are meant to be enjoying their golden years, many within our local communities are facing immense daily struggles as they support large families on their pension funds, deal with chronic illness and are raising vulnerable and orphaned grandchildren (and great-grandchildren).
Part of HACT's HIV-related response is our Gogo Support Group programme which facilitates psycho-social support, family strengthening, improved skills development, food security and income generation as well as physical exercise among a network of over 1500 gogos who are heading vulnerable households. It was out of this holistic health approach, knowing that thousands of gogos across South Africa are stepping into the role of caregivers and want to be as healthy as possible for the sake of their families, that the GOGOLYMPICS was born.
However, we cannot make this milestone event a grand success without the support and involvement of our caring community and corporate partners. We appeal to all kind-hearted souls to join us in creating an unforgettable day of celebration, honoring the remarkable women who serve as game-changers and pillars of strength within our neighborhoods. This year we will also have a few races and games involving mkhulus, as they too wanted to participate and show by example that they are building community and are encouraging healthy, positive lifestyles."
"If you would like to become a part of this momentous occasion and make a positive impact on the lives of these phenomenal women within the Valley of 1000 Hills communities, please reach out to Phindiwe via email at grannies@hillaids.org.za. Your support, no matter how big or small, will contribute to creating an extraordinary day for our beloved Gogos," concluded Candace.