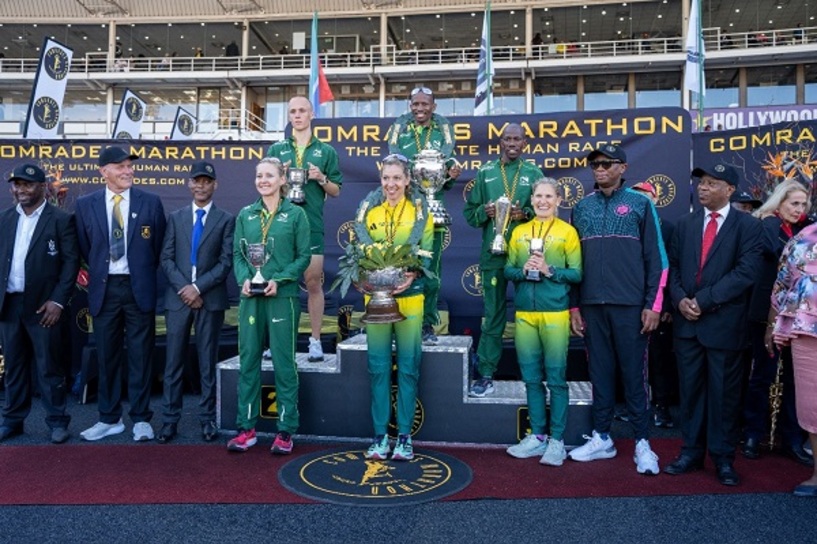 COMRADES TOP 10 CLEARED FOR PRIZE MONEY
The South African Institute for Drug-Free Sport (SAIDS) has confirmed that all drug-tested athletes who completed the 2023 Comrades Marathon have returned negative results for doping, clearing the way for more than R4-million in prize money to be paid out by the Comrades Marathon Association (CMA) to the deserving athletes.
CMA Race Director, Rowyn James says, "We would like to once again congratulate our 2023 Champs; as well as our winners in all categories on running a phenomenal race nearly a month ago. We are also pleased with the SAIDS confirmation that no athlete who competed in the 2023 Comrades Marathon had tested positive for doping; and applaud the athletes for upholding the ethos of fair play and keeping the sport clean."
Nedbank Running Club's Tete Dijana won the Men's Race in a time of 5:13:58; breaking David Gatebe's 2016 Best Time of 5:18:19 by over four minutes, while Phantane Athletics Club's Gerda Steyn claimed her victory in a time of 5:44:54, breaking Frith van der Merwe's 34-year stranglehold on the Women's Best Time of 5:54:43 by more than 9 minutes.
The Top 10 results of the 2023 Comrades Marathon are as follows:
Top 10 Men:
| Pos | Name | Country | Running Club | Finish |
| --- | --- | --- | --- | --- |
| 1 | Tete Dijana | RSA | Nedbank RC AGN | 05:13:58 |
| 2 | Piet Wiersma | Netherlands | Nedbank RC International | 05:14:01 |
| 3 | Edward Mothibi | RSA | Nedbank RC AGN | 05:17:34 |
| 4 | Gordon Lesetedi | RSA | Pan African Resources | 05:20:43 |
| 5 | Rufus Photo | RSA | Murrayb& Roberts LIMA | 05:21:48 |
| 6 | Johannes Makgetla | KEN | Nedbank RC AGN | 05:23:34 |
| 7 | Teboho Sello | Lesotho | Maxed Elite Lesotho | 05:24:23 |
| 8 | Aleksei Beresnev | Russia | | 05:24:41 |
| 9 | Gift Kelehe | RSA | Pan African Resources | 05:27:53 |
| 10 | Joseph Manyedi | RSA | Nedbank RC AGN | 05:29:49 |
Top 10 Women:
| Pos | Name | Country | Running Club | Finish |
| --- | --- | --- | --- | --- |
| 1 | Gerda Steyn | RSA | Phantane AC | 05:44:54 |
| 2 | Adele Broodryk | RSA | Nedbank RC AGN | 05:56:26 |
| 3 | Carla Molinaro | RSA | Phantane AC | 06:00:23 |
| 4 | Dominika Stelmach | Poland | Nedbank RC International | 06:06:02 |
| 5 | Caitriona Jennings | Ireland | Nedbank RC International | 06:10:27 |
| 6 | Alexandra Morozova | Russia | | 06:14:33 |
| 7 | Petra Pastorova | Czechia | Nedbank RC International | 06:22:34 |
| 8 | Noora Honkala | Finland | | 06:25:00 |
| 9 | Camille Chaigneau | France | Nedbank RC International | 06:26:58 |
| 10 | Jenet Mbhele | RSA | Xcel RC | 06:27:14 |