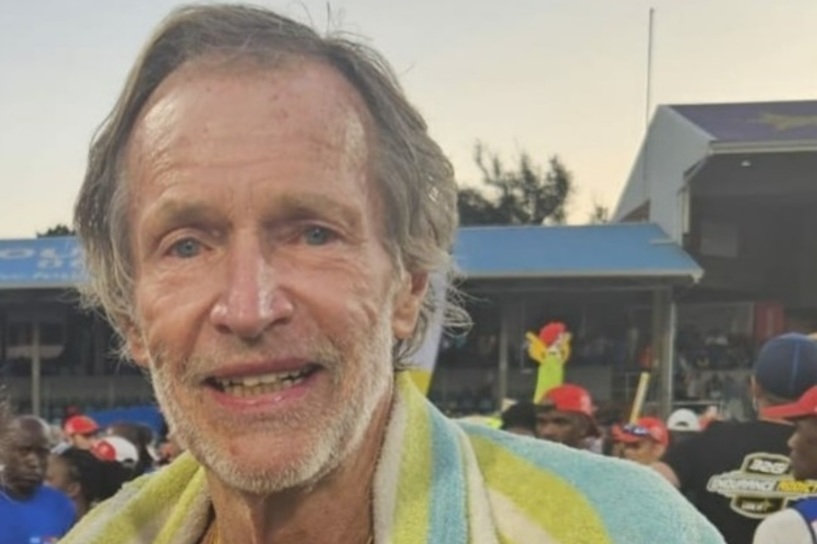 FINDING A GOOD SAMARITAN BY QUADRUPLE GREEN NUMBER RUNNER, MIKE COWLING
"I had been extremely nervous about this year's Comrades as, for a number of reasons - including fairly major surgery on a knee and shoulder - I had missed last year's race. This was the first time in 40 years so I was full of regret but I also lost a lot of confidence. In the interim I had developed a rather nasty habit of tripping over cats' eyes in the road and had made up my mind that if I fell during the race that would be the end and I would bail.
On the day, by the time I had reached Pinetown I had regained my confidence and was quite sure that my 43rd medal was 'in the bag.' However, while crossing the road to reach a table I tripped (yet again) on a cat's eye and crashed onto the hard tar surface with a sickening thud.
A crowd of runners gathered around me with all offering various forms of advice but at that stage all I wanted was to be lifted up by the medical rescue team and to be transported to the nearest medical facility. As far as I was concerned the race was definitely over.
But then I heard a clear, calm voice firmly instructing the gathering crowd to 'back off' and to give me 'some breathing space.' I looked up and noticed that the owner of the voice was a woman wearing a T-shirt with a Comrades race number pinned to it.
She then commanded one of the runners to lift me up - which he did - and then she waved him on. But by then a number of spectators had come onto the scene offering me muscle relaxant and anti-inflammatory pills and all kinds of therapies.
Likewise, with all the authority of an army sergeant, she waved them on as well.
So now it was just the two of us. She then informed me that she is a Comrades runner with - I think - six medals to her name and showed me her race number. Unfortunately she had sustained an injury so she could not compete in this year's race.
She then put her arm around my shoulder and said 'Come - we are going to start walking.' There was no way that I could tell her that, at that stage, all that I wanted was to pull out of the race. This was mainly due to the fact that the knee that had undergone the surgery was extremely painful. But we proceeded slowly arm in arm with her offering me encouraging advice each step of the way.
When I complained about the pain in the knee she assured me that it would 'go away.'
After about 100m the pain did start to recede and a further 100m down the line the pain had reached a stage where I could start running again. I thanked her profusely and asked her name as well as took notice of her number.
I was so relieved to be back running again that from that point on I had one of the easiest and pleasurable Comrades finishes. But unfortunately I was unable to recall the name or race number of my guardian angel.
I think her name might have been Busi but I can't say that with any confidence whatsoever. But I really would like to make contact and to let her know that I finished. I would also like to speculate with her about what the outcome would have been if she hadn't been there right at that very spot!"