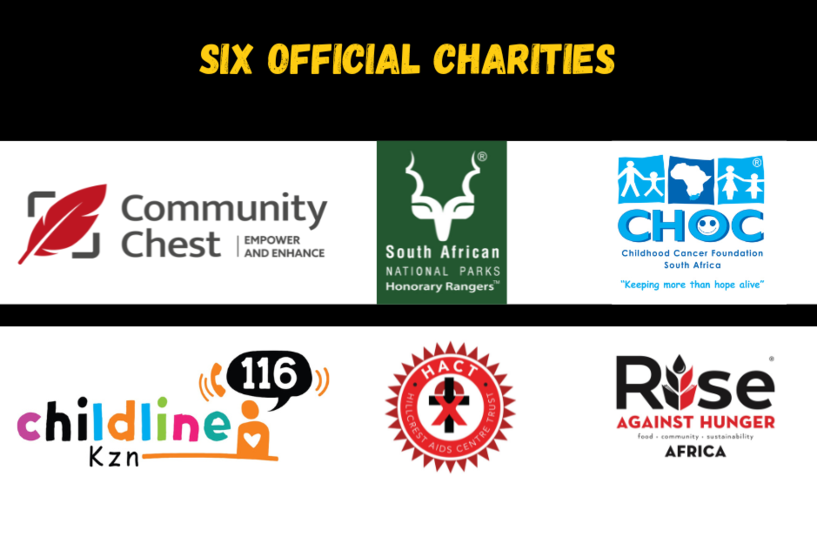 NEW OFFICIAL COMRADES CHARITIES ANNOUNCED
The Comrades Marathon Association (CMA) is delighted to announce the six official charities that will be part of its official Amabeadibeadi Charity Drive for the upcoming three-year cycle.
The Comrades Amabeadibeadi Charity Drive has raised more than R71-million for charity since its inception over 27 years ago, all thanks to the generosity of Comrades Marathon runners, supporters, sponsors, and the public at large for their generous contribution to the success of this charity drive.
The selected charities are focused on various facets of social and environmental upliftment, from early childhood development, wildlife and environmental awareness; conservation of protected areas; issues of gender-based violence and child abuse; as well as childhood cancer care and HIV/Aids support.
These charitable organisations will benefit from the CMA's fundraising initiatives over the next three editions of the world-famous ultramarathon, being the 2024, 2025 and 2026 races. This year's selection includes four existing charities as well as two new kids on the block which are South African Parks Honorary Rangers and Childline KZN.
The chosen charities are:
• Community Chest of Durban and Pietermaritzburg
• Childhood Cancer Foundation
• Childline KZN
• Hillcrest Aids Centre Trust
• Rise Against Hunger Africa
• South African Parks Honorary Rangers
Community Chest of Durban and Pietermaritzburg: http://www.communitychest.org.za/
The Community Chest of Durban and Pietermaritzburg focuses on four key social issues that colour the South African socio-political landscape. These are Education, Health, Stable Income-Generation and Community. They aim to enhance communities and restore hope through facilitating corporate giving, investment and community participation.
Childhood Cancer Association: https://choc.org.za/
CHOC is made up of caring, committed and passionate people who stand up for, and support the well-being of children and teenagers diagnosed with cancer or life-threatening blood disorders and their families. They strive to save lives through early detection and making the journey of those who are affected by childhood cancer, less burdensome through the comprehensive support programmes which they offer.
Childline Kwa-Zulu Natal: https://www.childlinekzn.org.za/
Childline KZN is a non-profit organisation whose main purpose is the development of a society free of child abuse in which every person takes responsibility for promoting the protection and rights of children. Childline KZN has developed age specific therapeutic programmes which are utilized to facilitate disclosure and the healing process for children of abuse. The therapeutic process allows children to develop trust and build a relationship with the social worker, which in turn enables victims to disclose abuse in a safe environment and thus promote the start of the healing process.
Hillcrest AIDS Centre Trust: https://www.hillaids.org.za/
HACT provides unconditional love and hope to all those impacted by HIV/AIDS. They comprehensively assess the status and needs of everyone who approaches them for help and provide holistic care for people living with HIV/AIDS. They economically empower people living with HIV/AIDS and provide HIV/AIDS education and awareness. They also care for at-risk groups, such as orphaned and vulnerable children.
Rise Against Hunger Africa: https://rahafrica.org/
RAH coordinates the distribution of food and other life-saving aid worldwide. It is a volunteer-based meal packaging and results oriented nutrition programme that currently has four full-time operations in Johannesburg, Cape Town, KwaZulu-Natal and East London. RAH's vision is an Africa without hunger with a mission of transformation through education; educating their donors, beneficiaries, volunteers and suppliers about the role they play in eradicating child hunger.
South African Parks Honorary Rangers: https://www.sanparks.org/about/
SANParks manages a system of 19 functional national parks in seven of the nine provinces of South Africa with a total area of just over 4 million hectares comprising 67% of the protected areas under state management. The SANParks of today is recognised as a world leader in conservation and protected area management. In the last two decades, seven new national parks have been established, totalling over 700,000 hectares, with much of this being in the under-conserved biomes such as the Succulent Karoo and Fynbos.
CMA Charities & CSI Convenor, Pat Freeman says, "Welcome to our six newly selected Official Comrades Charities for 2024 -2026. Congratulations to those who have been reselected and an especially warm welcome to our two new NGO's, Childline KZN and SANParks Honorary Rangers. We so look forward to your participation and wish you success in your involvement with Comrades."